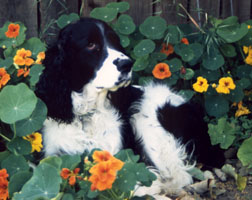 The Fat Spaniel
The source of the name "Fat Spaniel" was a particularly happy and energetic canine
"Fat" refers to the prosperity and good fortune of the "Spaniel" who had all of her needs met (food, shelter, food, comfort, food, love, food) and had minimal responsibilities. The dog truly lived large. After spending many years residing near an avocado tree, regularly being fed her share of treats and only occasionally following a balanced diet and getting plenty of exercise, the spoiled Spaniel grew into her name.
The name Fat Spaniel was first applied to a partnership that owns and operates a small Merlot vineyard in the Sierra Foothills of Calaveras County, California. During work weekends, the Spaniel would nap, briefly patrol the premises and then return to intense napping.
One of the vineyard partners, a software engineer by training, became more and more involved in renewable energy. Because the vineyard water well is far away from the utility grid, he installed a standalone photovoltaic pumping and storage system to irrigate the property. He later installed a grid-tied photovoltaic system on the roof of his home. Unable to easily monitor the system's performance, which he came to discover was commonplace throughout the industry, he started his own business with the goal of making renewable energy more visible, accessible and compelling to end users. In pursuit of developing a prosperous, growing business, it seemed only natural to name it after the dog.